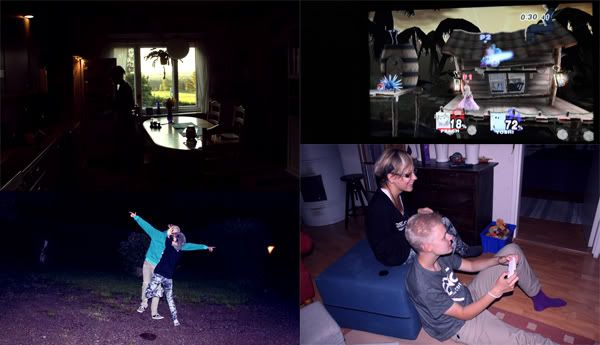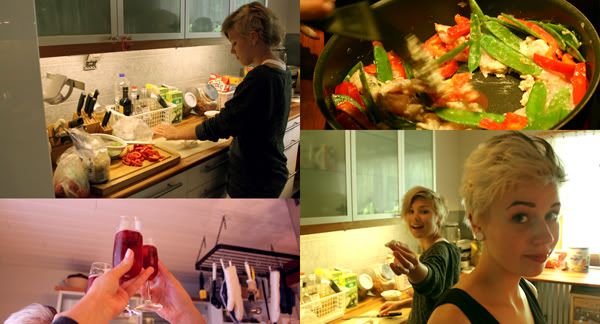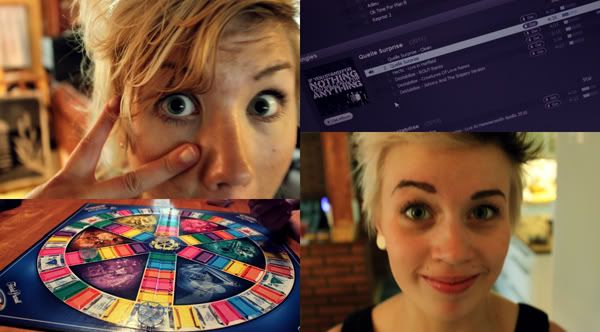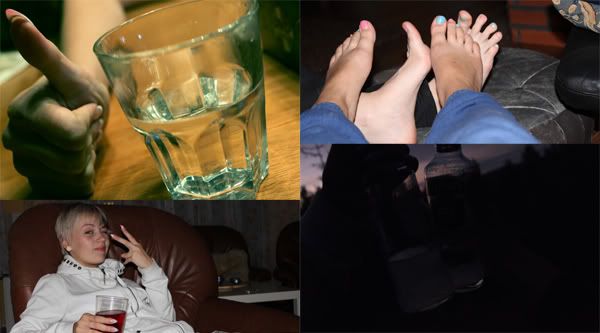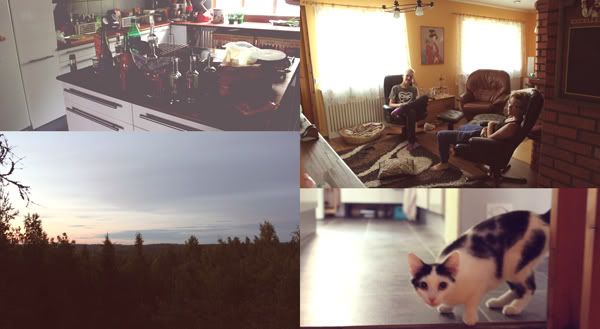 Nyt selitykset kollaaseihin yksi kerrallaan. Kollaasi = neljä kuvaa, koittakaa pysyä mukana!
Torstaina päädyttiin Viiville kattoo leffoja (

Dude where's my car

,

Veronica decides to die

ja Mindhunter

s

), lukemaan Demiä, syömään jne. Niklas löysi minirummut joista oli hyvin omistushaluinen. Alkuilta meni hyvin popparin- ja elokuvanoloisissa tunnelmissa!
Leffojen jälkeen kello alkoi olla keskiyön maissa joten päätettiin mennä tutkailemaan yöllistä Vihtiä! Oli pimeetä kun lähettiin, mut tuli valosampaa siellä ollessa. Takasintultua pelattiin vähän Wiillä, mm. Guitar Heroa, Super Smash Bros Brawlia ja Mario Karttia. Niklas valitti että me huudetaan Viivin kanssa liikaa pelatessa.
Kun kello alko lähestyä viittä, päätettiin että valvotaankin koko yö. Kahvia naamaan. Aamuviiden kananmuna & pekonit ja System Of A Down.
Peltolenkki Viivin kanssa (elovenakuvat) ja Niklas joka luovutti ja jäi nukkumaan.
Päivällä rintamasuunta meille ja epätoivoisten nukkumayritysten sekä jakson ABDCn kutoskautta jälkeen ruvettiin kokkailemaan hienoa kana-munanuudeli-sokeriherne-paprika-halloumiwokkia. Kohoteltiin lastenshampanjamaljoja jäädytetyillä mansikoilla juhannuksen kunniaksi myös!
Musiikkia, Trivial Pursuittia jonka aikana mun ääni katosi täydellisesti jättäen mut epämääräisen teinipojan ja kuolemansairasköhinän äärirajoille. Saunassa käytiin mutta siitä ei lukijaystävällisyyden vuoksi ole kuvia (ja kukaan meistä ei nauti alastonkuvauksista)
Yhteiskuvia, trampoliini koska mikään juhla ei oo juhla ilman trampoliinia ja mun kiemuranaama.
Yöllisiä kuvia Viivin kanssa!
Morning after,

Grind

, Mythbusters ja aamupala.
Viivin versio löytyy sen blogista kilkkailemalla
tästä!
Juhannuksenjälkeiset tunnelmat myöhemmin vielä postauksena!
Translation: I'm gonna explain these collage-by-collage, and one collage contais four pictures so try to keep up!
We hang out @ Viivi thursday watching movies (

Dude where's my car

,

Veronica decides to die

& Mindhunter

s

), reading demi etc. Viivi cooked for us. Niklas found those awesome fingerdrums which didn't work so well but he was entertained still.

After movies we decided to go and have little Vihti sightseeing at night! It was kinda dark when we left but it got brighter after while. We also played Wii when we got back - some Guitar Hero, Super Smash Bros Brawl and Mario Kart. And shouted a lot while playing (or at least me and Viivi did)

Clock was ticking and we decided to stay up all night. Five am we went to make som bacon & eggs and listened System Of A Down. Kinda random.

As there was so nice weather when the sun rose, we went to walk by the field with Viivi. Niklas gave up before and slept that time. After our little walking trip we went back to Viivi's place and fell asleep for a moment also.

At noon we switched to our place. After trying to sleep we decided to start preparing food (I made this awesome pepper-sugar pea-halloumi-chicken-eggnoodle wok). We also raised glasses of "sparkling wine" which was really some childrens non-alcoholic champange!

Then some music, Trivial pursuit, me and my lost voice and sauna (no pics cause.... eh u know).

Of course some friendshots, trampoline (because there's no party without trampoline!) and ehm, me and my face.

Then sum pictures from night with Viivi!

Morning after companied by Mythbusters,

Grind

and breakfast.
I'm gonna have a house party
I might stay up until the A.M.
Yeah, I think tonight I'm just gonna stay in