Helou!
Tänään oli taas
Viivin
tukka operoinnissa, se kun lämpenee väriltään ihan mielettömän helposti
(sillä on joku käytösongelma...),
sitä ennen arviointikeskustelut ja sen jälkeen yks pikkupojan hiustenleikkuu. Ei siis mitään mahdottomuuksia. Oli myös hyvin kesä, vaikkakin tuulinen sellainen.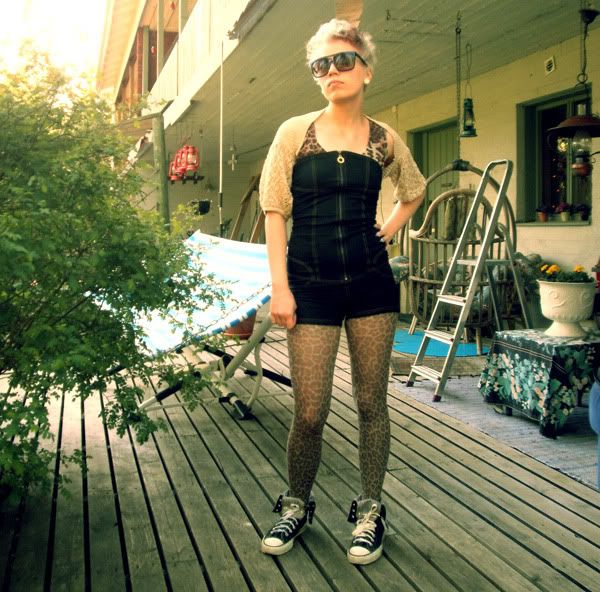 What's this bitchy outfit picture.... Btw, new denim-jupsuit-thingy 35€ from Spiritstore
Huomenna Niklakselle ja ylihuomenna tanssikampauksia
Millille
& Jullelle
(ei todnäk ihan niin klassisia kuin sanasta tanssikampaus olettaa...)
sekä siskon hiustenleikkuu & värjäys. Mut nyt takaisin Potterin ihmeelliseen maailmaan, se on soronoo taas seuraavaan otteeseen!
Translation: Hello! Today I operated (or dyed) Viivi's hair
AGAIN
because it keeps changing the color very warm in a very short amount of time (it has some kind of behaviour problem, I think...) Before that I had evaluation discussion about my parctical training. After Viivi's hair I cut some lil' boys hair. So nothing impossible today. Today was also very summery but very windy!
Tommorw I'm going to Niklas's place overnight. Saturday I'm going to make some hairdos to Julle & Milli for dance-show and dye & cut my sisters hair. But now I'm going back to Potter's magical world, bye!
Listen to all of this glass shatter
It pierced my ears and made them bleed
Now it sounds so beautiful,
cause you're beautiful you're beautiful