Oon tänään ja eilen pyöriny
yesstylen
sivuilla kuola poskella. Ensinnäkin, vaatteet on ihania ja aika halpoja! Toiseks, suurin osa malleista on ihania. Iskee pieni katkeruus kun kattoo jotain vaatetta ja sitte tajuaa että ainii mutta toi onki niin hoikka jne. että eihän toi oikeesti mulle sovi... Mutta tänäkesänä aattelin rikkoa vähän mun omia päänsisäisiä rajoja
(mm. mulla on tosi vaikea kuvitella itseäni tyttömäisiin vaatteisiin)
ja hommata vaatteita ilman ennakkoluuloja!
Joten, päätin aikani kuluksi tehä pienen kollaasin (mä en ikinä saa mun kollaaseista pieniä...):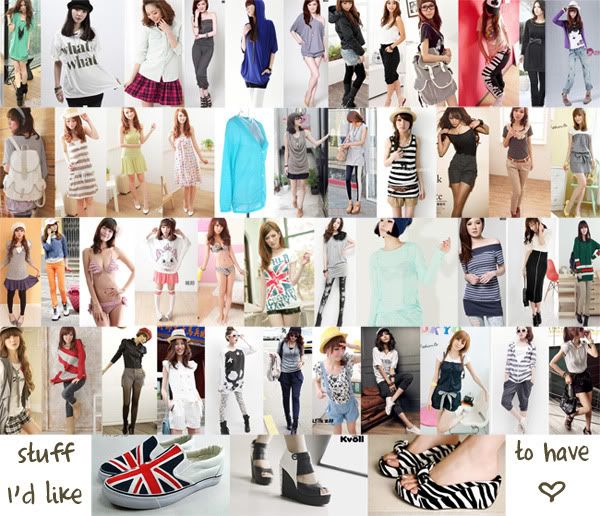 Ja ei, en oo kattomassa lätkää enkä aiokaan. Kyllä facebook kertoo miten kävi.
Translation: I have gone trough yesstyle today and yesterday and now I eant everything. First, clothes are so pretty and second, almost all models are so pretty! I become litlle jealous because all the clothes fit so well 'cos they're so skinny... oh well. But this summer I decided to break my own clothing-rules (since I've always had little trouble thinking myself in very girly clothes) and buy clothes without prejudices!
And above is the collage I made from clothes I want.
And no, I'm not gonna watch Finland vs. Swedish ice hockey game because facebook tells me enough.
Yes, and there ain't no stoppin'